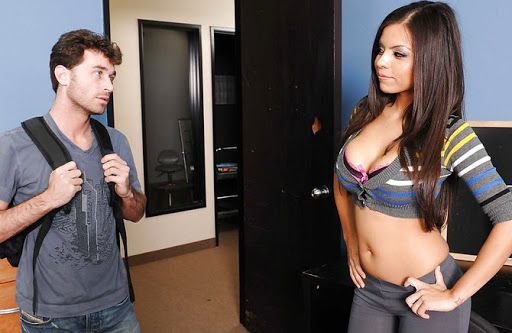 Greetings to all readers! My name is Sveta, now I'm 23 years old. This is a real name, but unfortunately or fortunately, it does not correspond to the well-known saying about the queen of blowjob. I won't say that I can't suck at all, but I can't compare with porn actresses. Basically, my story will not touch the guys directly, so this information is not very important.
Perhaps, like many, I will start with my appearance and, in general, will tell you a few words about myself. A short girl, about 160 cm, with big breasts and a lush ass. At one time, I had to sit for hours in gyms so as not to lose weight control. But now the chiseled waist perfectly emphasizes the figure.
I myself am from a small town, but during my studies I moved to the regional center and stayed to live and work. Only the fun life in the hostel was replaced by measured everyday life in a schematic apartment with a seemingly respectable neighbor. I moved in with a girl with the beautiful name Angelina almost immediately after graduating from university. She is a couple of years older than me, a cut taller and generally very graceful, only with small tits.
We got along well and rarely crossed paths. But everything changed with the introduction of quarantine. As a girl, I can safely declare about inexplicable female logic and the fact that our actions sometimes do not even correspond to her. All of us women bitches know such a thing as cycle synchronization. And for this reason, all women's groups are doomed to unbearable working conditions. So while Gela and I rarely saw each other, everything was fine. But the so-called self-isolation made all the discontent surface. About what we just did not quarrel. For the volume of music, for early or late delivery of food, for cleaning, etc. etc.

In addition, the lack of guys affected. I parted with mine for several weeks, and Angelinka had been without a boyfriend for a couple of months. As a result, by the end of the month, our quarrels escalated into direct clashes.
- Oh, you bitch! - Gela shouted, trying to grab my hands.
- Fuck you, shmara!
As it turned out, unlike me, the neighbor used to go to some kind of struggle with the Greek name. Therefore, my resistance was broken, and soon I was lying under my opponent on the sofa with my hands pressed to my chest. But Angelina did not act further. Suddenly the anger disappeared from her face and she began to breathe deeply. The neighbor suddenly dug into my lips, I did not even have time to figure out anything, as she switched to my neck. She kissed me passionately and nibbled gently. I could not resist anyway, but after this sudden act I also began to rapidly become aroused. And although I had no experience other than kissing with friends drunk, I would hardly be able to stop.
When our lips touched again, I responded with a kiss. Our tongues began to intertwine, and her grip weakened. I acted instinctively. She wrapped her arms and legs around her slender girlfriend, trying to squeeze her as tightly as possible. She approached my ear and gently ran her tongue along the edge. Goosebumps instantly crumbled down my body and I groaned.
- Let's go to bed - Angelina whispered gently, got up and gently pulled me by the hand.
I followed her as if hypnotized.

- You know what to do?
- Sveta, I know perfectly well that you watched lesbian porn, I also watched it. You better shut up and don't get distracted.
When we were near her bed, I decided to take the initiative. Sharply pushing the bitch into bed, jumped on top and pulled off her T-shirt. Her dexterous hands quickly gripped my lush, size four breasts. She caressed her nipples, which had long been sticking out from incredible excitement. In an incomprehensible way, Gela ended up on top of me. Quickly relieving me of my panties, she gently touched my wet pussy and made me arched from the sweet sensations. It was clear that my mistress was just as excited, and besides, she was not going to give me the lead role. Not even a minute had passed when Angelina, after me, completely undressed and sat on top, so that her shaved pussy turned out to be popped on her face. She held on to the headboard and rubbed her crotch against my lips. It was necessary to act quickly.
I must say right away that I have never experienced such a high. But for the attention of everyone. In reality, lesbian sex is a little different from what we are used to seeing on monitors. I mean that you don't have to shove your tongue where you don't ask. Then, of course, you can shove it deeper and not only into the vagina, but it is not worth starting with this not for guys or girls.
In the end, I did what I would like myself. Namely, she passionately caressed the clitoris, after which she contrived and inserted her finger into her friend's wet cap. I heard my mistress moaning sweetly and glory to something that she had finished quickly, because I was gasping for about a hundred with every movement, she pressed the letters to my face more and more. But the slight suffocation had an even stronger effect on me.
Angelina bent over me, her hair falling over my face.
- It was divine. And now, honey, it's your turn - she whispered languidly, after which she ran her tongue over my plump lips.
Her kisses began to sink lower and lower, and soon I felt gentle touches to the pubis and hot breath on a tiny intimate haircut.
- Put it on - it's not clear where a sleeping mask flew into my face, although I could hardly see something around me, because my eyes were constantly rolling in ecstasy.

All that remained was to obey, and it was not in vain. Soon I felt something wet and cold on my pussy and ass. When I realized that it was grease and guessed what Gela was thinking, it was already too late. She sharply inserted her fingers into both holes at the same time. From the surprise, my breath stopped, I could not even moan, not that I could not scream. Although it turned out to be so pleasant that even if I screamed, it would be purely out of pleasure. And this pleasure was yet to come.
My bossy girlfriend was clearly not going to be limited to one masturbation. After a couple of moments, I enjoyed not only masturbation, but also cunnilingus. I had no idea that sex with a girl could be so sensual. In addition, anal penetration was so painless that all that remained was to moan and approach orgasm. I wanted with all my strength to stretch the pleasure, but the approach of the peak of pleasure was inexorable. Cooney and double masturbation did their job, and I started to cum, as I had never finished before. A few guys could not achieve such a result, I myself could not even come close to him.
After 10 minutes everything was over, we wanted to repeat everything. Now experiments have gone into business as curiosity prevailed. We had a couple of dildos and a lot of lubricant at our disposal, so I fucked Angelina until late at night, after which we fell asleep in each other's arms. Now the coronavirus will not prevent us from quietly waiting for the end of the quarantine. And although we continue to swear a little, reconciliation comes very quickly along with powerful orgasms. By the way, a courier with an anonymously wrapped strap-on is about to arrive, and while my girlfriend, I finish writing the last lines and wait for the doorbell to ring. After all, we are planning a night no less stormy than our first quarantine experience in lesbian sex.